Philadelphia's Broad Street Run, which has a fast point-to-point course, is the largest 10-mile race in the country. I was lucky enough to be chosen in this year's lottery entry, and I would wholeheartedly recommend adding it onto any running bucket lists (though I may be the only one keeping road race and marathon bucket lists).
What makes the race unique? Runners start in North Philly and run along the same street for the entire race, passing through many diverse neighborhoods en route to the finish in the Philadelphia Navy Yard. It also feels like the whole city of Philadelphia comes out to spectate and cheer on the runners. There were many live bands, DJ booths, and plenty of great signs. My favorite: "Run Like You're Late for the Hogwarts Express!"
Found these Philly-themed nail wraps on Instagram from @sarahmariedesignstudio
Other things to check out in Philly:
1. Philadelphia's Magic Gardens
This art gallery has an outdoor space filled with labyrinthine mosaic pathways. The mosaics are comprised of everything from rusted bicycle tires and chipped pottery to secret messages painted on tiles. The result is whimsical, and it's an excellent spot for some Instagram-worthy pictures. Of note: the Magic Gardens is closed on Tuesdays, so plan ahead.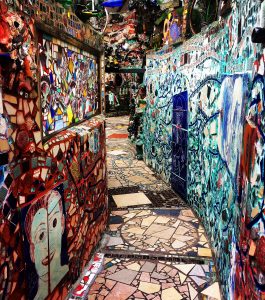 2. Rocky Steps + Statue
The steps up to the entrance of the Philadelphia Museum of Art, also known as the "Rocky Steps," are the same ones shown in Rocky's intense training montage. It's definitely worth recreating the scene and running up the steps because the view from the top is stunning. The statue is located at the base of the steps, off to the right.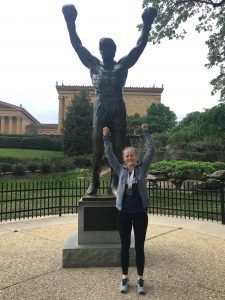 3. Reading Terminal Market
This public market in Center City Philadelphia has been open since the late 1800s, making it one of the country's oldest food halls. The vendors offer a vast array of fresh fruits, vegetables, and cheeses, as well as prepared food. Beiler's Doughnuts is a must-visit; the doughnuts are so fresh, they are filled and frosted right in front of the customers. Beck's Cajun Café also deserves some acknowledgment for their outrageous fried mac and cheese balls.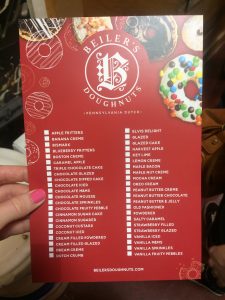 4. Liberty Bell
Philadelphia is a city steeped in history and home to many National Historic Landmarks. I was able to fill up a full page in my NPS passport with cancellation stamps in a matter of minutes. I did spend more than a few minutes in the Liberty Bell Center, though. The line for the security checkpoint moved very slowly, but it was well worth the wait to see an iconic symbol of American independence and freedom.