I don't know if I'll make it to all six Disney resorts (for a total of 12 theme parks) in my lifetime, but I checked another one off the list in July.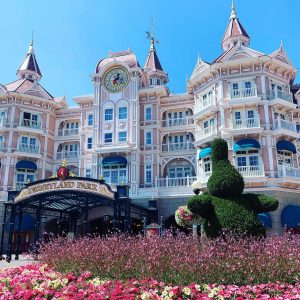 Disneyland Paris, formerly Euro Disney Resort, is comprised of two theme parks: Disneyland Park, and Walt Disney Studios. In terms of size and scale, the resort felt similarly to California Disney. The Walt Disney Studios Park was especially small, and we felt we only needed a half-day to tackle all the rides; Disneyland Park, however, needed at least 1.5 days with all of its attractions and shows. As a result, we planned two full days in the parks with a multi-day ticket package, which allows for park hopping.
The Walt Disney Studios park had two really special attractions that we loved: the Crush Coaster, and Ratatouille: the Adventure (which is rumored to be coming to Epcot's France Pavilion in Florida). On the Crush Coaster, riders climb into a turtle shell and glide through the Great Barrier Reef and the East Australian Current (EAC) with Nemo and friends. The Ratatouille attraction features "ratmobiles," and riders are shrunk down to size in order to follow Rèmy through his preparation of the famous dish.
The parks offer a lot of classic Disney attractions, including 'it's a small world,' Big Thunder Mountain, Buzz Lightyear Laser Blast, Mad Hatter's Tea Cups, Peter Pan's Flight, etc. However, a lot of the rides seem more thrilling, and some have a more compelling storyline. Phantom Manor, the park's Haunted Mansion, was the best iteration of the ride I've seen so far. Additionally, the park's Hyperspace Mountain has a Star Wars overlay, and it's much more exhilarating, with multiple loops and steep track.
Disneyland Paris still offers a paper FastPass system, which I will always believe creates a level playing field for all guests, not just those staying on Disney property. In this way, we were able to seek out the attractions with longer wait times, and grab the FastPass tickets to return later in the day. We easily got at least five FastPass tickets a day, we didn't have to plan our day months in advance, and we hardly waited in lines longer than 20 minutes. The Disneyland Paris mobile app was also essential in avoiding waiting in long lines, as we could periodically check the estimated wait times, and hop around to shorter lines. The parks offer complimentary WiFi, as well.
Another really interesting difference is the Disneyland Park's Discoveryland, which replaces the classic Tomorrowland theme, a standard in many other Disney parks. It features a lot of bright gold buildings with teal accents, and elements of steampunk design. It definitely feels more Jules Verne than the Jetsons.
The park also offers some fascinating walk-through attractions. Guests are able to climb to the second story of Sleeping Beauty's castle and walk along the outside overlooking Fantasyland. Underneath the castle is a cavern with an animatronic dragon (Maleficent). In addition, there is a hedge maze called Alice's Curious Labyrinth, which is whimsically themed like Alice in Wonderland.
The view from the second floor of Sleeping Beauty's castle.
The only aspect of the park I found disappointing was the food, which was underwhelming. While the actual restaurant interiors were beautifully designed, it felt difficult to find lunch options that looked appealing. We did enjoy our meal at the Cowboy Cookout Barbecue, but I wasn't truly impressed like I am at Walt Disney World. The food carts seemed to close randomly, and the park didn't have a lot of the standard Disney snacks, such as churros, Mickey pretzels, Mickey Premium Bars, etc.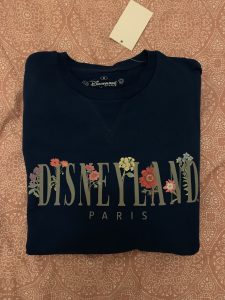 The park's merchandise was not as subpar as its food; I was very excited about this sweatshirt!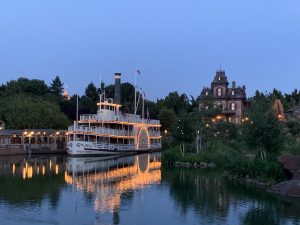 Despite my assumption that the park's attractions would primarily be in French, there was a very good balance of English and French, and often subtitles. We really didn't have an issue with a language barrier, especially as the cast members seemed fluent in multiple languages. A definite highlight was Mickey's Philharmagic, a 4-D show that incorporates classic Disney music from Peter Pan, Aladdin, and the Lion King. All around us, we heard little children singing along to the songs in French, which was endearing and memorable.
Overall, while the resort felt familiar, like the Disney parks I have visited so many times before, it was also new and exciting.