The Chicago Marathon was my first of the six Abbott World Marathon Majors (AWMM). These high profile races are: New York City, Boston, Chicago, London, Berlin, and Tokyo. For elite runners, the annual series determines the world's best distance runners. The champions are those who score the most points in the qualifying races. For the rest of us marathon enthusiasts, the races often comprise running bucket lists. "Six star finishers" are marathoners who have finished all six races.
Entry into the six marathons varies in difficulty. The Chicago Marathon offers guaranteed entry through:
1. Time qualification: Marathon qualifying standards depend on both age and gender. For my age category (16-29), it requires a marathon finish on a USATF-certified course in the past year in under 3:35:00, roughly a 08:20 min/mile pace.
2. Charity entry: Each charity that is part of the official charity program will have its own fundraising requirements, but the minimum is generally around $1,250.
3. Legacy finish: Finishing the Chicago Marathon five times in the previous ten years constitutes eligibility for a legacy entry.
Non-guaranteed entry is offered through a lottery. Of course, the odds of getting in through the lottery will differ every year. Though I haven't had any success with the NYC Marathon, I was selected to run the Chicago Marathon on my first attempt.
Admittedly, I did not feel as physically prepared for this one, especially in the weeks leading up to the race. It was a combination of not carving out enough time for my long runs, and lacking my usual drive and motivation in this training cycle. Luckily, the race seemed to be a testament to mind over matter. I didn't try to push myself to beat my personal best; rather, I actually enjoyed the run and just focused on being present.
I felt like I truly saw the city during the marathon. The course brought runners through 29 distinct neighborhoods, and the amount of spectators was truly incredible. The positive energy was palpable; I felt in better spirits while running, and I even managed to shave a few minutes off of my Marine Corps Marathon finish time. It helps that this marathon has a reputation for a fast, flat course, too.
Other Chicago Highlights
1. Architecture Boat Tour:
In the weeks leading up to my trip, many people suggested this as a different way to see the city, especially because Chicago is known for its architecture. In fact, the world's first skyscraper was built in Chicago, back in 1884. There are quite a few tour companies to choose from, but we did a bit of research and picked Chicago's First Lady Cruises. We booked a 5:30 pm tour, and we were able to enjoy the sunset, and see the skyline after dark. My biggest learning, besides the names of the five tallest buildings in the city, would be that October in Chicago is definitely cold enough to warrant packing a winter coat.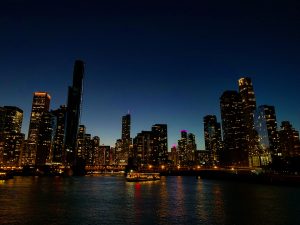 2. Three Dots and a Dash:
Located down an alley and underground, this speakeasy cocktail lounge has a strong tiki theme. I ordered a Painkiller, and we shared crispy coconut shrimp and spicy Thai fried chicken, all of which I would recommend. We went on a Sunday night, and we had a reservation, so the experience felt pretty seamless. Supposedly it can be very crowded, so reservations are strongly encouraged.
3. The Second City:
The Second City is a theater famous for hosting improv and sketch comedy. Notable alumni include Bill Murray, Steve Carrell, Tina Fey, and Amy Poehler, among others. The shows often sell out, so we bought tickets ahead of time. I truly didn't realize just how clever and political it would be, and I was so impressed. We laughed for the entirety of the performance.
4. 875 N Michigan:
When we initially tried to go to the Sky Deck in the Willis Tower, we encountered a 3+ hour line, which seemed daunting, and we decided to bail. Instead, we headed over to 875 N Michigan, formerly the John Hancock Center. We were able to wait less than 15 minutes and take an elevator to the 95th floor without purchasing a ticket. We enjoyed a drink at the bar, and were treated to some amazing views of the city's other skyscrapers.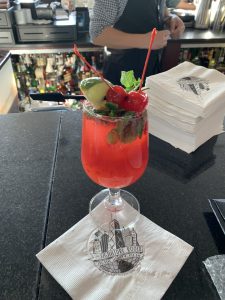 5. Chicago Pizza & Oven Grinder Co:
This restaurant is known for its Pizza Pot Pie, which has flavorful homemade sauce, plentiful melted cheese, and thick crust. We also ordered the restaurant's most popular menu item, the Mediterranean Bread, and a Chef's Salad. The salad comes with three types of dressing, and our waiter suggested mixing the sour cream garlic and the sweet and sour poppy seed. It was definitely one of the more memorable salads of my life.
6. Shedd Aquarium:
The aquarium is located within Museum Campus, which offers stunning views of the city skyline. It is one of the most visited aquariums in the US, and is home to more than 1,500 species. We especially enjoyed the Caribbean Reef exhibit, a circular tank that holds a rescued green sea turtle, and lots of sharks, rays, and schooling fish. The aquarium also has dolphins, belugas, and sea otters in the Oceanarium!
7. Skydeck:
Later in our trip, we did make it back to the Willis Tower for the Skydeck. We went about forty minutes before it closed, and it was a much more pleasant experience, with a minimal wait time. The Skydeck has enclosed glass boxes that jut out 4 feet from the building on the 103rd floor. In order to keep the line moving, we were allotted 60 seconds in there, which was surprisingly enough time to take pictures and soak it all in. It was both terrifying and exhilarating to step into the box and seemingly float over the city, watching cars beneath my feet.