SeaWheeze 2018
SeaWheeze is lululemon's annual half marathon, or, as they refer to it, "yoga run party," in Vancouver, British Columbia. The race draws 10,000 runners to Vancouver for an entire weekend of festivities, including a showcase store and a sunset festival.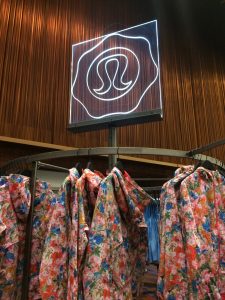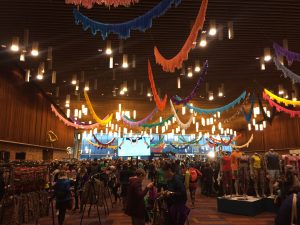 Though I heard rumors about runners camping out in line for the showcase store in previous years, this year, we were able to register for an "in-line time" when we could start waiting on Friday. The showcase store was located inside the Vancouver Convention Center in an enormous room, where the special edition product was organized by size. They had funky patterns, bright colors, and 360 degree reflective pieces.
The weather forecast all weekend predicted rain, and I was a bit apprehensive when I woke up Saturday morning to a downpour. I don't mind running shorter distances in the rain, but I usually swap my long runs to days with nicer weather. I knew beforehand that I wanted to stop and take some pictures and hug my personal cheer squad at the 18 km mark. So, I checked my nerves, and just committed to enjoying every minute and soaking it all in (literally soaking, given the rain).
The race surpassed all of my high expectations. I was emotional when I first began running after listening to the Canadian national anthem at the starting line; this was my first international race, and hopefully not my last. There were many cheer stations around the course with groups from local run clubs, F45 Training, November Project, and the Vancouver Police Department. There was even a 20th birthday party outside of the lululemon Head Office. One of my favorite stations was the Ride Cycle Club; they lined up on their stationary bikes, cheering on the runners while riding.
The course was absolutely beautiful, even in the rain. Much of the course follows the Stanley Park Seawall, with salty air and views of the Pacific Ocean. I finished in less than two hours, and I received a beautifully vibrant medal, and overnight oats and banana bread for the post-race brunch.
Saturday night was the SeaWheeze Sunset Festival, held in Stanley Park. They had yoga, local vendors, food and drink tents, a Ferris wheel, a festival store, and musical performances by Diplo and Felix Cartal. I especially enjoyed the special edition beer, a collaboration by Poshmark Brewing with lululemon, called "Could You Be More Pacific?"
 Other Vancouver Highlights
1. Rain or Shine Ice Cream
I love visiting homemade ice cream shops when I travel, and two of the best places I have been to date are also on the West Coast. Rain or Shine offered some eclectic flavors like Blackberry Cassis, Cracked Mint, and London Fog. My favorite was the Malted Milk Chocolate, which incorporated dark chocolate-coated honeycomb and malted barley. Rain or Shine is definitely up there with Molly Moon's in Seattle and Salt & Straw in Portland.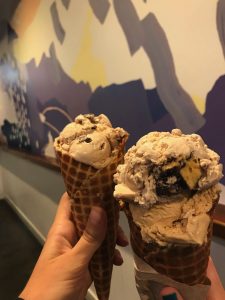 2. Gastown Steam Clock
There are very few functioning steam clocks in the world, and this was the first designed by Raymond Saunders in 1977. A trail of steam pours out the top, and the clock chimes every 15 minutes. It is an interesting contrast to the trendy Gastown neighborhood where it is located, just across the way from a Starbucks.
3. Granville Island Public Market
This indoor market boasted fresh produce, handcrafted wood products and souvenirs, and prepared food. While walking through, we were able to sample fresh bread, pickles, and maple syrup. I was really torn on what to order for lunch, since there were so many tempting options. I ended up with deliciously spicy pad thai from Sen Pad Thai, which I would highly recommend.
4. Cambie Climbing Tree
There is no exact address for the climbing tree online because locals are worried about the inevitable litter and vandalism that comes with an influx of visitors, so I won't share the exact location either. Part of the adventure was checking through a row of trees for the signature "easy-to-climb" thick branches close to the ground. I probably didn't get more than two stories up before I decided to just hang out. I don't have time for another broken bone this year. While we were sitting in the tree, someone came along and climbed to the top to scope it all out, and he shared his panoramic pictures with us.
5. Capilano Suspension Bridge Park
The Capilano Suspension Bridge Park is one of Vancouver's most popular attractions. It encompasses a 450' suspension bridge, a series of wooden paths winding through the evergreens, and a walkway around a granite cliff. The bridge was both terrifying and exhilarating; it swayed as we traversed across with a hundred or so other tourists in bright rain jackets.
6. Jam Café
Early in our trip, we drove past Jam and saw a line of people down the block waiting for this brunch spot. We decided to make it the last big meal we had on Sunday. We ended up waiting somewhere between 1.5-2 hours for a table, but it was absolutely worth it. We all ordered some variation of Eggs Benedict, but I'll always remember their homemade jam with sourdough toast.