Sometimes you find the place where your soul lives, and I think mine resides in Tampa, Florida. There are many reasons to love the city, including: the countless outdoor festivals, Bayshore Boulevard (my favorite place for a sunset run), a subtropical climate, diverse restaurants, the Tampa Bay Lightning (aka the best hockey team around), and gorgeous white sand beaches. I traveled back to Tampa for the first time in nearly 3 years this February for the Gasparilla Distance Classic, and to visit with one of my best friends.
Gasparilla is a season in Tampa running from mid-January to mid-March; the biggest event is the Parade of Pirates, held annually on the last Saturday in January. On this day, the pirates invade the city and celebrate with the country's third largest parade. Different pirate krewes create many of the parade's elaborate floats, and they throw beads to spectators. Other community events during the season include the Gasparilla International Film Festival, the Gasparilla Music Festival, the Sant'Yago Knight Parade, and the Gasparilla Distance Classic.
I didn't train for the race since my decision to run the half-marathon was impulsive, but I think muscle memory carried me through. The course followed much of the same route I would run in college through Davis Island and along Bayshore. The race started before dawn, but it was already humid and warm; still, it was nice to run comfortably in shorts and a tank top.
The weather all weekend was beautiful, and we spent much of it outside. After the race expo on Saturday morning, we went to the beach in St. Petersburg. We also had lunch at No Vacancy, a new restaurant/bar in downtown St. Pete. It has a retro motel theme, and a great outdoor lounge with plastic pink flamingos.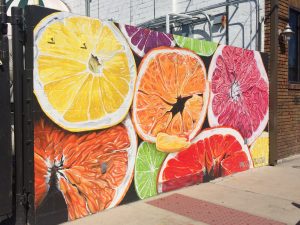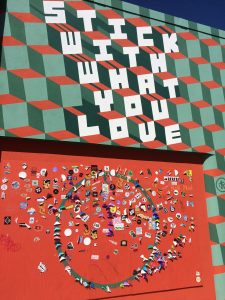 Downtown St. Pete generally has a lot of really good street art + murals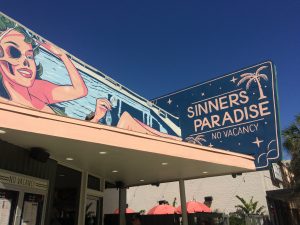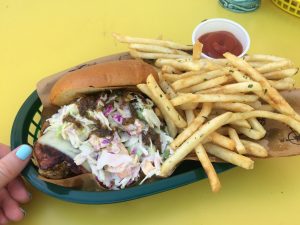 At No Vacancy, I ordered a jerk chicken sandwich, which I would highly recommend!
The Don Cesar, an old hotel rumored to be haunted
Other weekend highlights included an afternoon in Hyde Park with a stop at The Hyppo for homemade, all-natural ice pops; a long walk along the newly-renovated Riverwalk; brunch at Oxford Exchange, arguably the most photogenic place in the city; and the new food halls, Armature Works and the Hall on Franklin.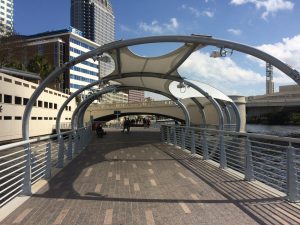 The Riverwalk was under construction for many of my college years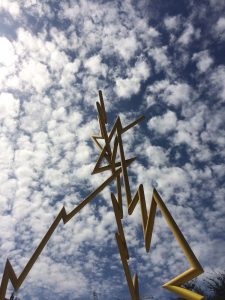 Outside of the Amalie Arena – go Bolts!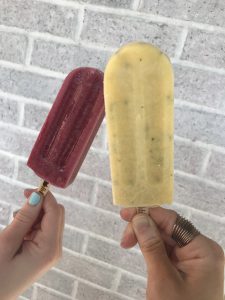 An interior shot of Oxford Exchange
Armature Works
Though I always talk about wanting to move back to Tampa, I had started to wonder if I was chasing the past. If I move back, my life still won't be what it was in 2014. But, my weekend in Tampa was a positive reaffirmation that I love the city as much as I thought I did. It's undergoing a lot of development, and there are a lot of exciting new places to explore.