My main motivation for traveling to the rainy city of Seattle was geocaching. The geocaching headquarters is located in Fremont, an eccentric neighborhood known by its inhabitants as the "Center of the Universe." Its numerous creative sculptures and artwork (a troll, a rocket ship, a statue of Vladimir Lenin, etc.) corroborate Fremont's unofficial motto "De Libertas Quirkas," or the "Freedom to be Peculiar."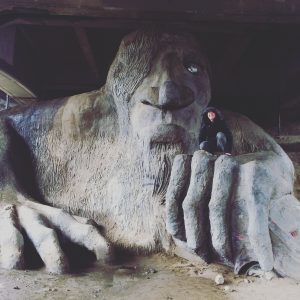 Geocaching HQ should be on any geocacher's bucket list, as it has its own cache, special merchandise available for sale, a photo booth (making for an interesting log book), and lots of trackables items to trade and discover. There is also an HQ GeoTour, which highlights 9 unique caches all within walking distance of HQ, and it is highly enjoyable.
When I wasn't geocaching, I also visited the famous Pike Place Market, one of the oldest farmers' markets in the USA, and home to the original Starbucks. The market boasts fresh fish, fruit, and flowers, as well as artisanal products like wooden cutting boards, homemade jewelry, and hand-dyed shirts. I absolutely loved visiting Beecher's Handmade Cheese, where I could watch the cheesemaking process and sample some absolutely delectable cubes of cheese. I also enjoyed Pike Place Chowder so much that I had to go back for another meal later in the trip.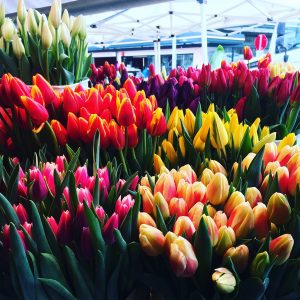 Tulip time at the market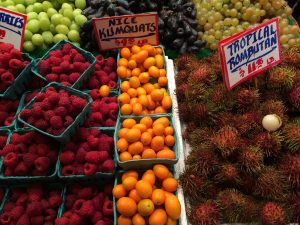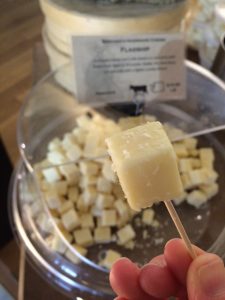 Beecher's cheese samples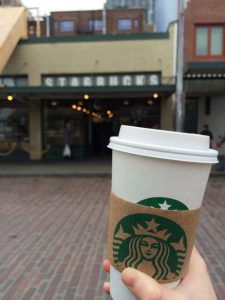 Chai from the original Starbucks location
Down an alley near the marketplace is another strange attraction, the Gum Wall. Its name is quite literal, as it is simply a brick wall covered in discarded chewing gum. Disgusting? Maybe. Unique? Definitely.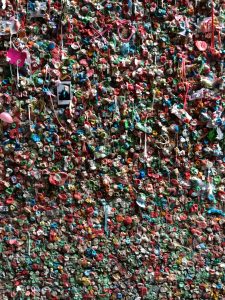 Other Essential Stops in Seattle
1. Bill Spiedel's Underground Tour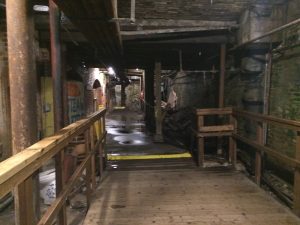 The energetic tour guide kept me laughing the whole time and piqued my interest in strangely sordid Seattle history. Plus, the tour leads participants on a walking adventure under the city through dark corridors that used to be the street level sidewalks.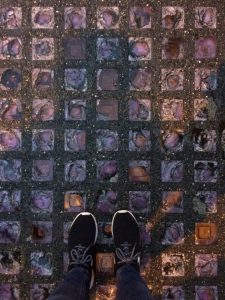 The purple tiles in historic Pioneer Square sidewalks are actually skylights for the underground walkways.
2. Chihuly Garden and Glass
This was an absolute highlight of the trip. It was a beautifully curated collection, and exploring the boldly vibrant glasswork was a great way to escape the dreary weather outside.
3. Molly Moon's Homemade Ice Cream
Inventive flavors, fresh waffle cones made in store, and excellent customer service. My two favorite flavors were Earl Grey and Honey Lavender.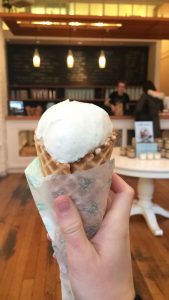 Traveling to the National Parks
In the final planning stages of my trip, I realized that the National Parks I planned on visiting, Olympic National Park and Mt. Rainier National Park, were still very much in the throes of winter. As such, they were only open Fri-Sun and required all vehicles to carry tire chains. I planned on visiting Olympic National Park first on Saturday for a ranger-lead snowshoe hike, and then heading to Mt. Rainier on Sunday.
Unfortunately, an avalanche on Hurricane Ridge Road left the mountainous area inaccessible and the snowshoe hike was cancelled, foiling my plans for Olympic NP. Instead, I was able to stop at the visitor's center in Port Angeles and hike for a bit surrounded by trees coated in lushly green moss.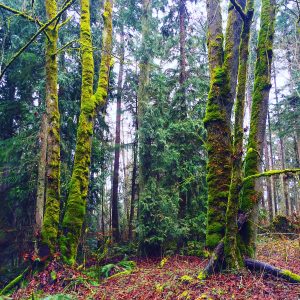 Luckily, Mt. Rainier more than made up for my disappointing experience in Olympic NP. We were able to get a fantastic view of Mt. Rainier, which apparently was hidden in fog for two weeks before we got there. According to the NPS, Mt. Rainier National Park, specifically the Paradise Visitor Center, is the snowiest place on Earth where snowfall is regularly recorded. When we were there, there was about 14 feet of snowpack on the ground.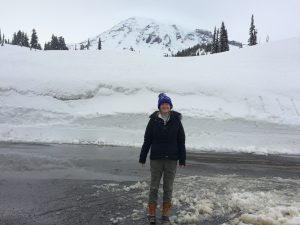 14′ of snowpack
To top it off, the night before visiting Mt. Rainier, I stayed in a tree house I found on Airbnb in Olympia, WA. Airbnb definitely offers more unique lodging than hotels, and I was so thrilled with the tree house. It was right above a little pond and I left the windows cracked so I could hear the frogs croaking.