The idea for traveling to the USVI originated with an online promotion from their tourism board. 2017 marks the centennial anniversary of "Transfer Day," when Denmark sold the islands to the United States. Consequently, the tourism board is offering a $300 voucher, to be used toward ecotours, attractions, shopping, or taxis, to guests who stay three or more nights in the USVI during the centennial.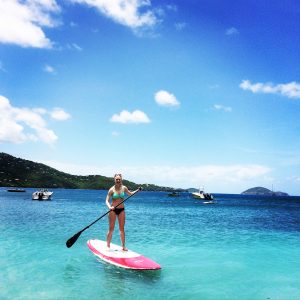 Stand-up paddle boarding at Magens Bay, which is regularly ranked as one of the world's best beaches
I was able to use my voucher toward a night kayaking excursion at the Marriott Frenchman's Reef. The kayaks had glass bottoms and LED lights so I could see right into the water beneath me and watch the tarpon swim past. The guides followed the group on stand-up paddleboards and shared a bit of USVI history and culture with us, as well as pointed out the species we were seeing. I didn't have my expectations set too high, but I was amazed when we saw sea urchin, stingrays, flying fish, and even sea turtles.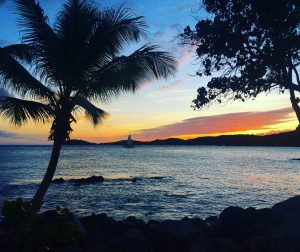 Sunset at the Marriott Frenchman's Reef
While wandering around Charlotte Amalie, St. Thomas looking for breakfast, we stumbled upon Pasta Go Go. It was tucked away down an alley in the Royal Dane Mall, but it turned out to be a great find. It had a very European feel, a nice outdoor patio, quick service, and reasonable prices. I had a breakfast sandwich with sundried tomatoes, goat cheese, and pesto on grilled ciabatta that was so delicious, I had the same thing the following morning too.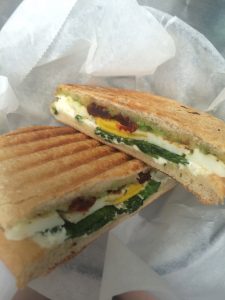 Even though we stayed on St. Thomas, we took the ferry one day over to St. John, which was relatively inexpensive at around $20 round trip. 75% of St. John is designated parkland for the Virgin Islands National Park, so I was able to stamp my NPS passport at the visitor's center, and then hike the Lind Point and Caneel Hill Spur Trail. We ended up at Trunk Bay after hailing an open-air taxi on the side of the road, but the famous underwater snorkel trail there was closed because of a strong current advisory. I was disappointed, but now I have a reason to return to St. John.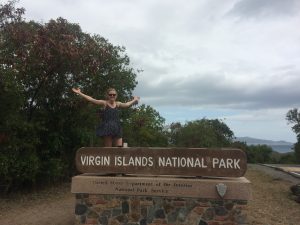 Self-professed National Parks fanatic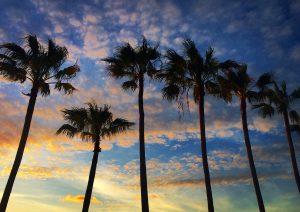 Before taking the ferry back to St. Thomas, we had dinner at The Longboard, an airy restaurant with lots of surfing-inspired décor. The food was fantastic; I had a sushi wrap that was both aesthetically pleasing and delectable. I also really enjoyed the fact that their bathroom was wallpapered in surfing magazines.