I started my trip to Texas in Austin, which was quirky and fun. I explored record stores, longhorn-inspired street art, old-fashioned candy stores, and an outdoor graffiti gallery. Even though I flew in and out of Austin, I spent most of my time in San Antonio.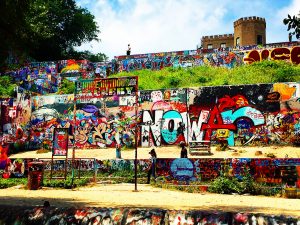 HOPE Outdoor Gallery
Unbeknownst to me when I made my travel plans, my trip to San Antonio overlapped with the annual citywide party, Fiesta. There were colorful flag decorations, mariachi bands on the Riverwalk, and, best of all, the Battle of Flowers Parade. All of the multicolored floats shimmered in the bright sunlight and the women on the floats lifted up their long dresses to show off cowboy boots.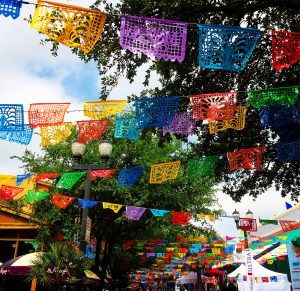 The Riverwalk was a lively waterfront district one story below the city's street level. Restaurants lined the river, and river cruises whisked guests along the water. My favorite spot in the Riverwalk was Casa Rio, the original restaurant, open since 1946. I had absolutely delicious tacos and a prickly pear margarita. Given that I ate tacos for just about every meal in San Antonio, I can definitively say Casa Rio's tacos were the best.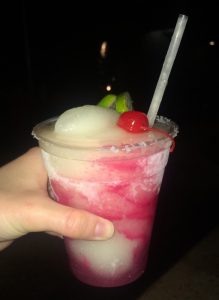 Prickly Pear Margarita!
Toilet Seat Museum
When I began planning the geocaches I wanted to look for in Texas, I read about Barney Smith's Toilet Seat Museum, arguably the strangest roadside attraction near San Antonio. Barney Smith is a 96-year-old retired master plumber and artist who crafts themed toilet seats. He has over 1300 seats, all numbered, ranging from a series of license plate seats to some inspired by the Boy Scouts, sea shells, pop culture, and the Olympics. He even has a series to commemorate his birthdays, and a series devoted to his late wife in honor of their anniversaries.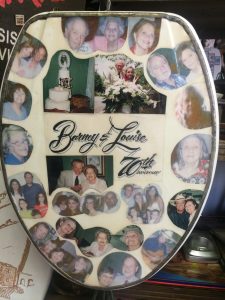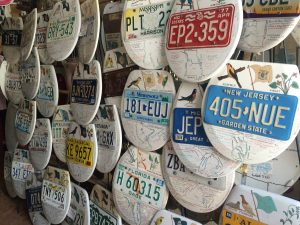 Barney is quite a character and he has a very sharp mind; he knows exactly where all the toilet seats are located in his museum (aka garage). He asks visitors to sign the toilet seats that apply to them. I signed the New York seat as well as the Geocaching seat. He even popped in a VCR tape to show me footage from his time as a guest on various talk shows. All in all, the visit to the Toilet Seat Museum was one of my favorite traveling experiences.
The House, Boozy Ice Cream and Brews
I saw this innovative shop mentioned online, included in a list of best ice cream places in the US. They offer alcohol-infused flavors, as well as "kid-friendly" regular ice cream that they can pair with shots of alcohol. The flavors change regularly, but when I visited they had selections like Bourbon Vanilla, Thin Mint, and French Toast. I went with Salted Caramel with a half shot of Jim Beam Honey, and it was outstanding. The only downside is that they don't offer samples, so when I ordered I just had to take a leap of faith.