I spent last summer in the Smithsonian's National Museum of Natural History as the Media & Outreach Leader in the museum's Academic Resource Center (ARC). I worked as part of a team that facilitated experiences for the summer research interns such as behind-the-scenes tours of the collections, orientations, social events, and lunch discussions. As the Media & Outreach Leader, my primary responsibilities were coordinating the "Intern of the Day" spotlight series and photographing events to create engaging material for social media. Overall, my position allowed me to blend my interests in science, photography, and writing, and it was truly inspiring to be immersed in an environment filled with equally passionate individuals.
Though I did spend a fair amount of time in the NMNH, I was able to explore a lot of the city. Here are some of my summer highlights:
1. Theodore Roosevelt Island
This island is a fitting memorial to our nation's 26th president, who was undeniably a conservationist and an outdoorsman. I went with two friends on a Saturday morning for a National Park Service ranger-led hike, and we were able to spend several miles traversing the trails, identifying plants, and learning facts about TR. While accessible by car, it's also an easy 10-15 minute walk from the Rosslyn metro station.
2.  Twilight Monument Tour: Boating in DC
If there's a better way to scope out some of DC's iconic monuments, I don't know it. I booked this kayaking tour through Boating in DC and spent the golden hour paddling the Potomac. We saw the Watergate, the Kennedy Center, the Lincoln Memorial, and the Washington Monument, just to name a few things.
Link here: http://boatingindc.com/dc-activities/tours/
3. Congressional Cemetery
Interestingly, being a member of Congress is not a prerequisite for burial in this historic (and active) cemetery. It has a lengthy list of famous interments, including J. Edgar Hoover and John Philip Sousa. Also of note: the cemetery has a private dog-walking program called the K9 Corps. Memberships begin at $235 and support the cemetery's ongoing work.
4. United States Botanic Garden
I love a good botanical garden like I love a good science museum. This one is located near the Capitol building, and it's free and open 365 days/year. There are rooms dedicated to Mediterranean plants, orchids, cacti and succulents, and rain forest flora.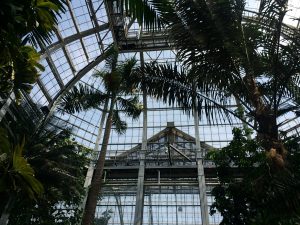 5. National Building Museum
This museum isn't part of the Smithsonian Institution, so it does have small entrance fee, but it is well worth it. The architecture museum is appropriately housed in a gorgeous building, and features a number of intriguing exhibits. I really enjoyed the ongoing House & Home exhibit, which showcases a number of consumer artifacts from past centuries.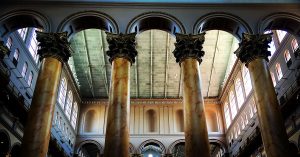 6. District Taco
It would probably be embarrassing to figure out just how many times I went to District Taco, but I guess that speaks to how much I love it. District Taco is a chain with many locations in and around Washington, DC, and it is fast casual dining. Besides having delicious food, they also have an awesome salsa bar.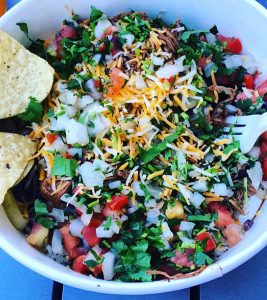 7. Ice Cream Jubilee
This shop is definitely up there with spots like Molly Moon's in Seattle and Salt & Straw in Oregon. Ice Cream Jubilee has been voted best ice cream in DC for the past three years. They have fantastic, unique flavors like Honey Lemon Lavender, Thai Iced Tea, and Passion Fruit Guava sorbet. It's also located right by the beautiful Yards Park in the Capitol Riverfront.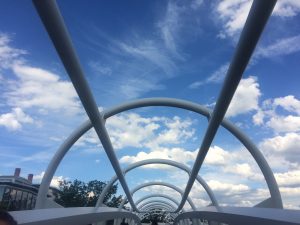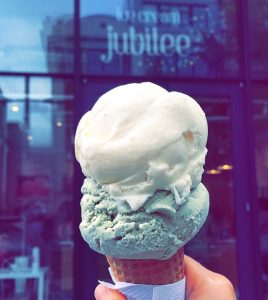 Basil Goat Cheese on the bottom and Honey Lemon Lavender on top!